According to my husband's imprecise undergraduate German, the above means something like "Praise God for good eats!"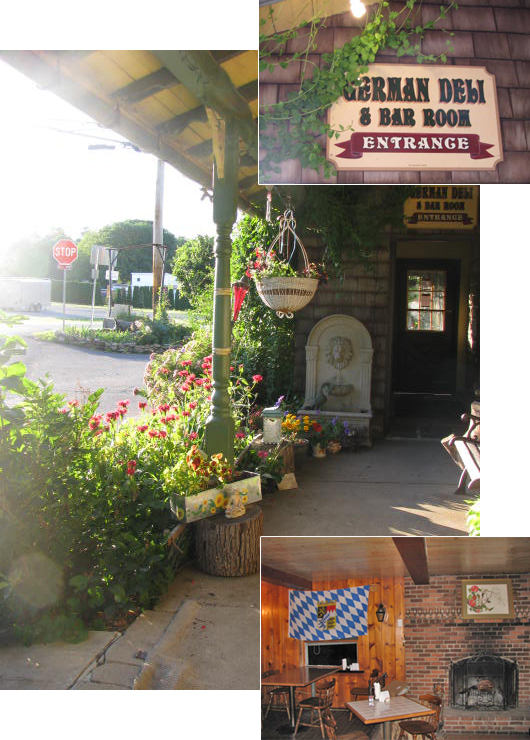 Good, inexpensive eats are what we enjoyed a few nights ago at Alexander's German Restaurant here in Berks County.
While Berks is a renowned hub of Pennsylvania Deitsch culture and cuisine, deitsch and deutsch are not the same thing.
You'll have to look elsewhere than Alexander's for the chicken & waffles, hot bacon dressing, and shoefly pie of the "Pennsylvania Dutch." (I recommend the inimitable Deitsch Eck restaurant in Lenhartsville, PA.)
Alexander's serves up authentic Bavarian fare (the chef, Hansel, is a native).  Instead of the smoked sausage favored by the region's deitsch-speaking denizens, Alexander's offers an array of wurst spread out on a bed of kraut made smooth by the addition of Riesling.  Instead of yeasty white dinner rolls, there's crusty brown bread and warm bretzel served with sweet mustard and butter.  Instead of sarsaparilla and birch beer soda, Alexander's features an unusually good selection of German, Czech, Danish and Belgian beers, with several on tap.
At the suggestion of our dirndl-clad waitress, I went for a pint of the Warsteiner Dunkel.  This mellow brew was semisweet like an ale, malty like a porter, and light and crisp like a lager in spite of its dark amber color.  For all of $3, it had everything I crave in a beer and none of what I don't (that is, it is not bitter).
After a few sips on an empty stomach, I could hardly control my Cheshire grin when the waitress announced the special for that evening: the wurst sampler.
I once heard that it was Einstein's love of wurst that kept him failing in his humanistic attempts to live as a vegetarian. I am also much too attached to the cuisine of my German-Slavic heritage to give up meat entirely.  I did feel ill, however, to learn the next day that the weissewurst I munched on was a veal sausage.  I don't care how tender the meat, I draw the line at eating baby flesh.  These links were tender though—and oh so juicy.
Which brings me to my next observation:  there are no vegetarian selections on Alexander's menu.  I always view this as a missed opportunity.  The husband's not a meat lover, so he enjoyed an enormous, buttery stuffed flounder.  A true vegetarian, however, would be forced to piece together a meal of side dishes.
Alexander's offers traditional German sides: rot kohl, spaetzle, sour cream dill cucumbers, potatoes dressed with white vinegar (the latter was served refrigerator cold, which made the vinegar too biting).  The creamy roasted dill dressing on top of my green salad (garden fresh and substantially-sized at $2.50) was homemade and craveworthy, as was my husband's sweet poppy seed dressing.
Part of Alexander's charm is getting to and from this old country hotel via a relaxing drive through rolling farmland.  Inside, the decor is an eclectic mash-up of restaurant surplus and flea market finds—of overstock and antique.  Depending on your expectations, this can make for comforting warmth or a feeling of decrepitude.  For me it is more of the former, though I'd love to dig in with my DIY decor tools and polish this diamond in the rough.