It's been too long since I've posted something new here. Among a swirl of other tasks, I've been trying to finish up this large-scale decorative painting, Ghosts of Autumn, before another autumn is past. This is acrylic on plywood measuring about 4'x2′. I intend it for a large (currently) blank wall in our living room.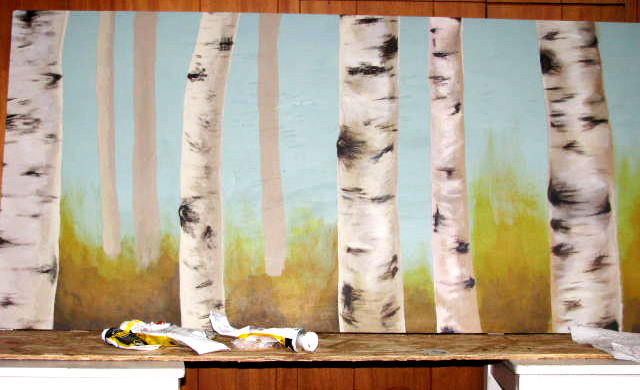 White birches are ubiquitous in the Anthracite Coal Regions, most especially on the huge culm banks (i.e., minor mountains of coal dust and slag left over from pit mining). There was a grove of white birches in the woods behind my childhood home that always felt hallowed, as if the trees were themselves ghosts of bygone generations. I went there on many gray fall evenings for comfort and connection.
I'm considering adding gold leaf to the background in the manner of Eastern Orthodox iconography. I will post the finished work, but my muse is presently so weak and frail from lack of nurturing, she stammers and falters.