I happened to marry a man who has opinions about decor—opinions that occasionally conflict with my own.  So when we both agreed that an elegant Redouté botanical print that belonged to his mother would look good on our living room wall, up it went.  But I was a little uneasy.  A mass-produced print, matted and behind glass, can sap a space of intimacy.  (I think of chain hotel art.)  Also, these nineteenth c. botanic illustrations were intended to be anatomically literal.  I wanted to pair it with something frameless, conceptual, and with some texture.  So I created the custom arrangement on left using gold acrylic paint and a laser cut stencil, both purchased at my big box craft store for less than $20.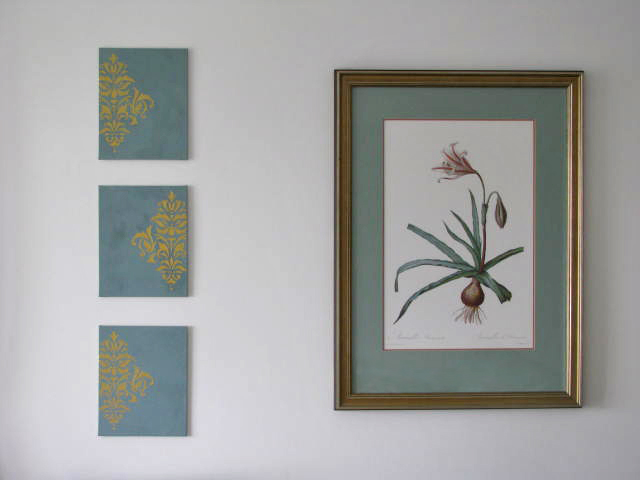 I began by taping three pre-fab 8×10″ art canvases together vertically along their backs.  I then mixed the blue color for the background (using the acrylics I always have on hand) and quickly applied it with a mini-roller.  Once dry, I taped my stencil down and used a sponge brush to dab on the Liquitex acrylic paint in Light Gold.  I applied two coats of the gold, allowing the paint to well up at the edges of the stencil pattern.  This created a raised-edge, embossed texture.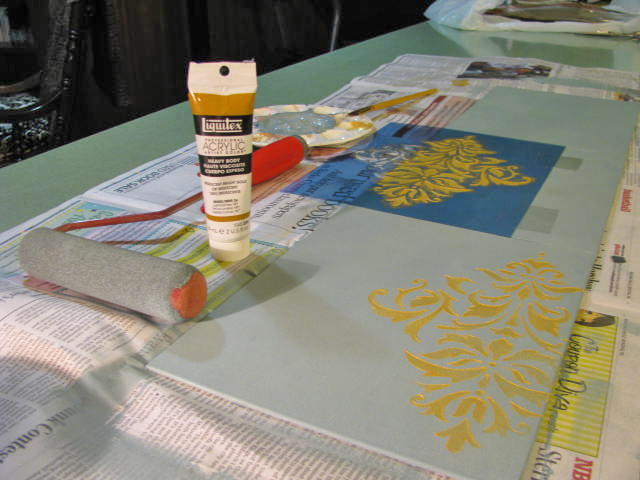 On the wall, I hung the arrangement so its center aligned with the center of the botanical print.  When I hung the print, I used the old eye-level rule that states that the center of any art work or installation should hang at approximately 57″ from the floor.  To achieve this, measure 57″ from your floor and mark your wall with a pencil.  Then measure the height of the work you are hanging and divide by two.  Use that number to measure up from your pencil mark and determine where the top of the work should be positioned.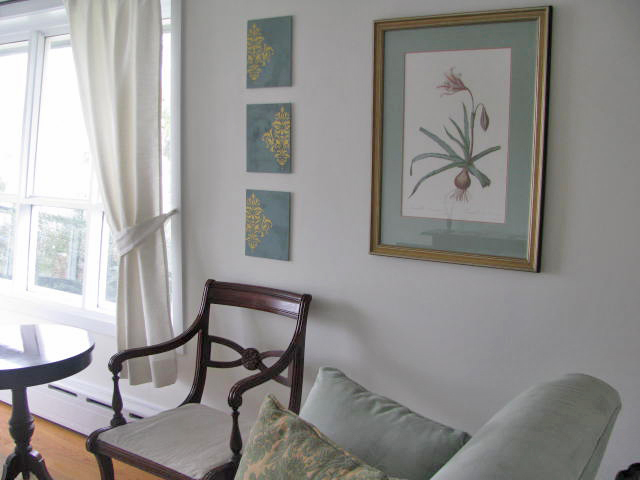 I chose the blue seafoam background color of the arrangement to complement the sofa and the damask pattern to correspond to the throw pillows. Any color scheme or oversized pattern can work for this project.  Also, while I happened to find a damask stencil that I liked, any pattern can be made into a stencil using an inexpensive stencil making kit available at your arts and crafts store.
As for the Mister's assessment, he let me know that he really likes how the gold paint draws together the other gold accents in the room.  Success!