Among the many notable contributions of immigrant communities is how often they preserve foods and food customs that have fallen out of fashion in the native country, including those that may have disappeared altogether from the homeland's culinary landscape. I suspect that if a modern Pole, or Hungarian, or Lithuanian were to sample the ethnic dishes being served in the church basements, legion halls, and picnic groves of the Pennsylvania Anthracite Region, they might find the fare quaint, perhaps alien.
Certainly, the butter-rich, starch-heavy dishes my Polish-American grandparents cooked regularly are not something I would feel confident eating everyday. This is not to mention how much time it takes to prepare a great batch of homemade pierogi (filled dumplings), a pan of galumpki (stuffed cabbage), or a kolachi (Polish kołacz, a light, flaky pastry dough spread with fruit, nut, or poppy seed paste and rolled…yum!).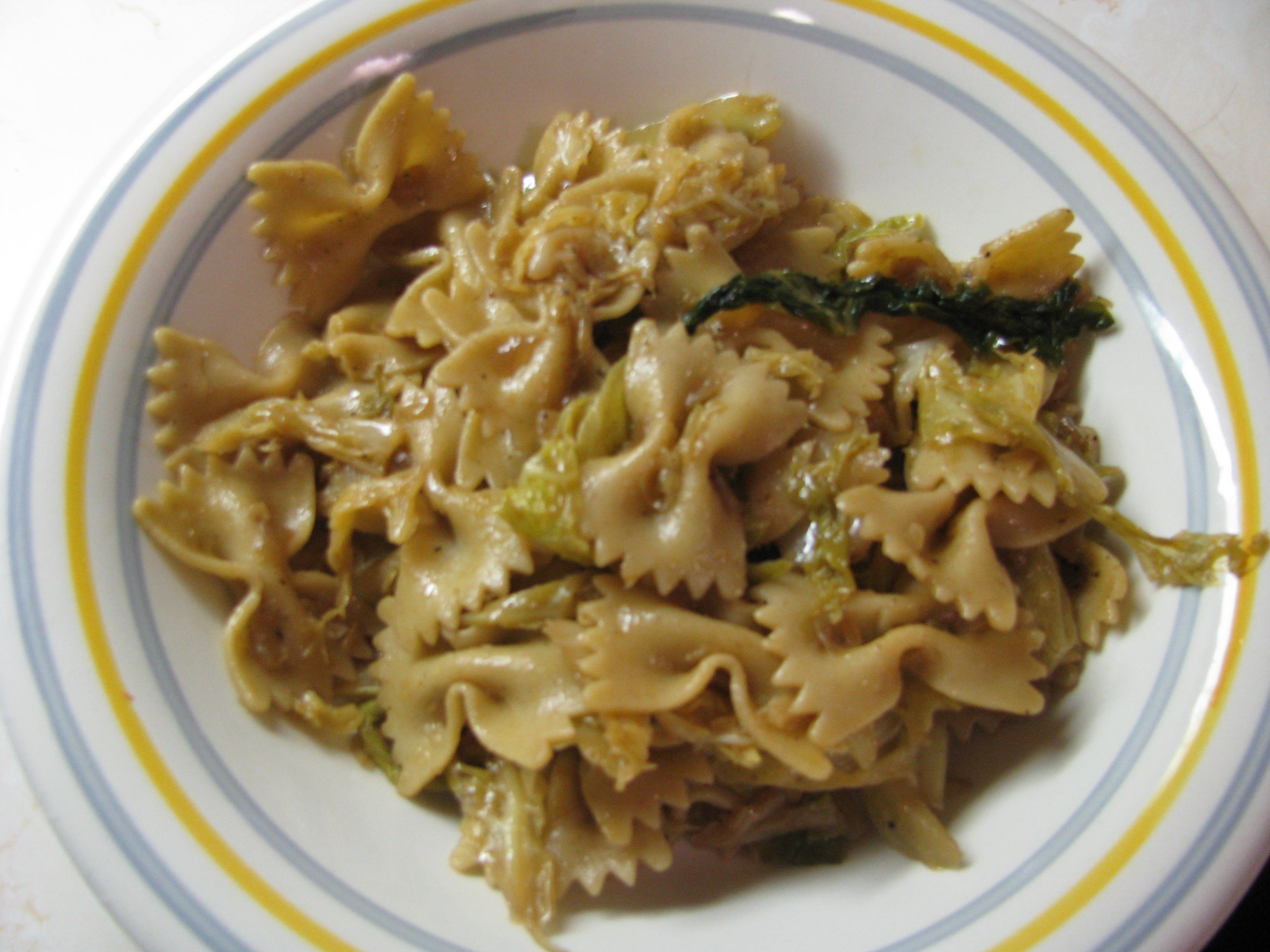 Haluski is one dish that can be cooked on a weeknight and made surprisingly healthy. In its traditional preparation, the dish gets most of its flavor and mouthfeel from ample amounts of butter. In my version, flavor and texture are achieved by carmelizing the cabbage and onions and deglazing the pan with stock toward the end of cooking.
INGREDIENTS
(makes approximately 4 servings as main course)
1 small head of savoy cabbage, cored and sliced
1 small to medium onion, coarsely chopped
2 Tbsp unsalted butter (reserve 1 Tbsp)
2 Tbsp olive oil
1/3 cup of chicken stock (Vegetable stock works if you wish to make the dish vegetarian, though I find chicken stock gives a noticeably richer flavor.)
7-8 oz (approximately one half box) of dried bow tie pasta (I have used Barilla Plus with good results. For what it's worth, this brand adds some protein to the dish.)
1/2 tsp of paprika
salt and pepper to taste
1. In a large cast iron skillet or frying pan over medium-high heat, melt 1 Tbsp of butter and 2 Tbsp of olive oil. (For best results, do not use a non-stick pan.)
2. Add cabbage and onions. Toss to coat.
3. When cabbage begins to soften and bottom layer begins to brown, add salt, pepper, and paprika. (I use approximately 1/2 tsp of each at this point.)
4. Continue tossing ingredients in pan, allowing time in between tossing for cabbage and onions on the bottom of the pan to brown.
5. Boil pasta according to package directions.
6. Add chicken stock to cabbage mixture and scrape the bottom of the pan to loosen any carmelized bits. (The mixture should not be soupy, so you may need to reduce the liquid somewhat.)
7. Using a slotted strainer or pasta ladle, scoop pasta from boiling water directly into frying pan. (Allowing a small amount of the pasta water to drip into the cabbage mixture is a good idea).
8. Toss to coat while adding reserved Tbsp of butter and more salt and pepper to taste. (Adding this last Tbsp of butter is optional. I sometimes find I've achieved enough flavor to forego it.)