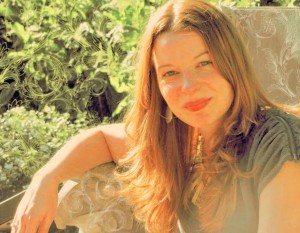 Living by Design chronicles one person's humble, yet deliberate, attempts at crafting a gracious life out of everyday elements.
Hello, I'm Erica Vinskie-Cinelli.  A flattering friend once called me "the cool Martha Stewart." I suspect I have a lot to learn before I'm any match for Martha (whom I've always considered uber-cool), but this blog is where I put myself to the test in the areas of decorating, cooking, dining, designing, crafting, and (the occasional) cultural reflection.
(On the last item, I hold two degrees in religious studies and read a fair amount of social history, ethnography, and theology, so I may not be able to control my intellectual impulses

Since 2005, I have worked as a publication designer and editor. You can peruse my portfolio at SkieDesign.net.  Recently, I trained as a professional art framer and am working to build a small decorative arts and artifacts business.  Meanwhile, I enjoy teaching and tutoring students in writing at Penn State's School of Graduate and Professional Studies.
I grew up in a tiny "patch town" in the economically devastated, environmentally decimated, and starkly beautiful Anthracite Coal Regions of Northeastern Pennsylvania.  Resilient and resourceful is how I would characterize both the land and the people there, and I hope that characterization applies to me as well.
Today, I share a light-filled, mid-century modern ranch home on a hill with my husband and four cuddly kitties in Berks County, the heart of Pennsylvania Dutch Country.
Thank you for visiting Living by Design.  I hope you find something useful here and decide to join me in appreciating the everyday, while elevating it just a little heavenward.