I didn't want to let two whole months go by between blog posts, but here it is, glorious mid-May.
I would like to blame my lapse on my new job, but it's only part-time, and so that is only part of the problem.
Mostly, I've been experiencing a strong compulsion to stay off of the computer and get back to basics.  After years of creating almost exclusively in two-digital-dimensions, I suddenly can't keep my hands off of my paints, my brushes, my furniture, my fabrics, and all things tactile.
Even as I type this, I'm dying to get out from behind this backlit monitor screen and out into the early evening sunlight.  The true colors are calling me.
But I've a few new pieces to show, so I might as well get on with it.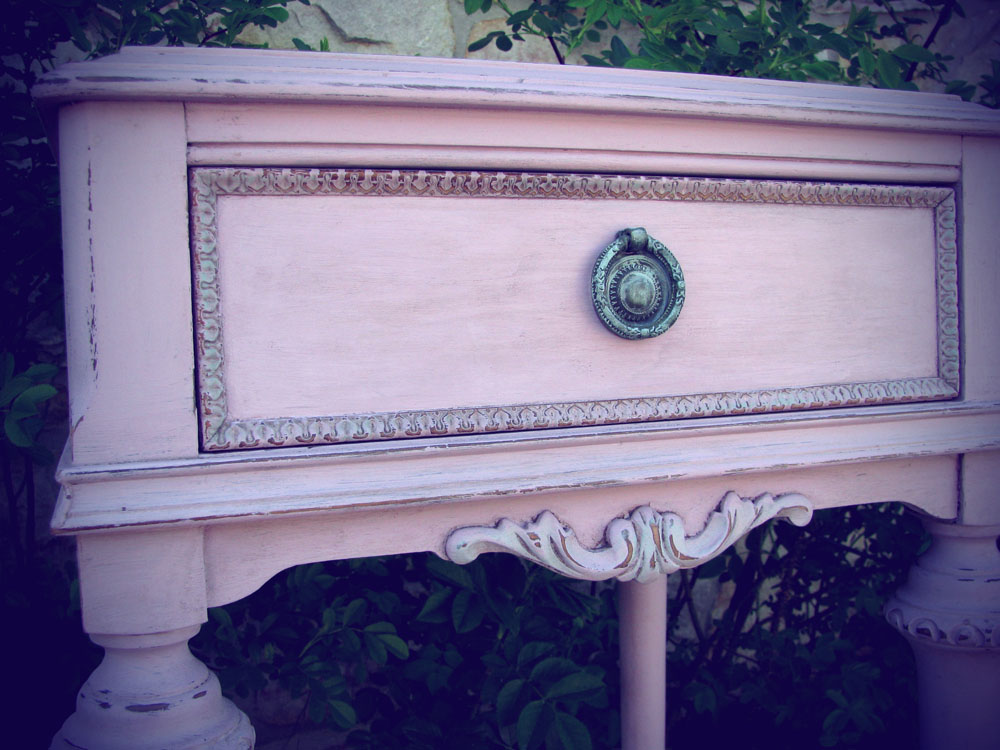 I salvaged this nightstand for $12 at a flea market back in February.  The embossed carving inspired me, but the original dark mahogany stain did not.  (As usual, I neglected to take a "before" shot.)  So I opted for painting rather than restoring (oh, and painting is so much more fun!)
I used (primarily) Annie Sloan Chalk Paint in Henrietta.  One $11.95 sample pot was more than enough for this small project (and traveling 30 minutes to buy it at a specialty boutique was worth it).
This paint has been called the "best in the world."  I can attest that it is the best I've ever used on wood furniture.  Though I did sand and clean this piece, these steps are not necessary when using Annie Sloan Chalk Paint.  Neither is priming.  The paint covers incredibly well (only one coat was needed) and dries almost instantly to a chalky vintage finish.
I rubbed a little of Annie Sloan Chalk Paint in Duck Egg Blue along the embossed carving and on the hardware, which gave it a weathered-copper patina.  I also painted the inside of the drawer and the underneath of the piece in blue.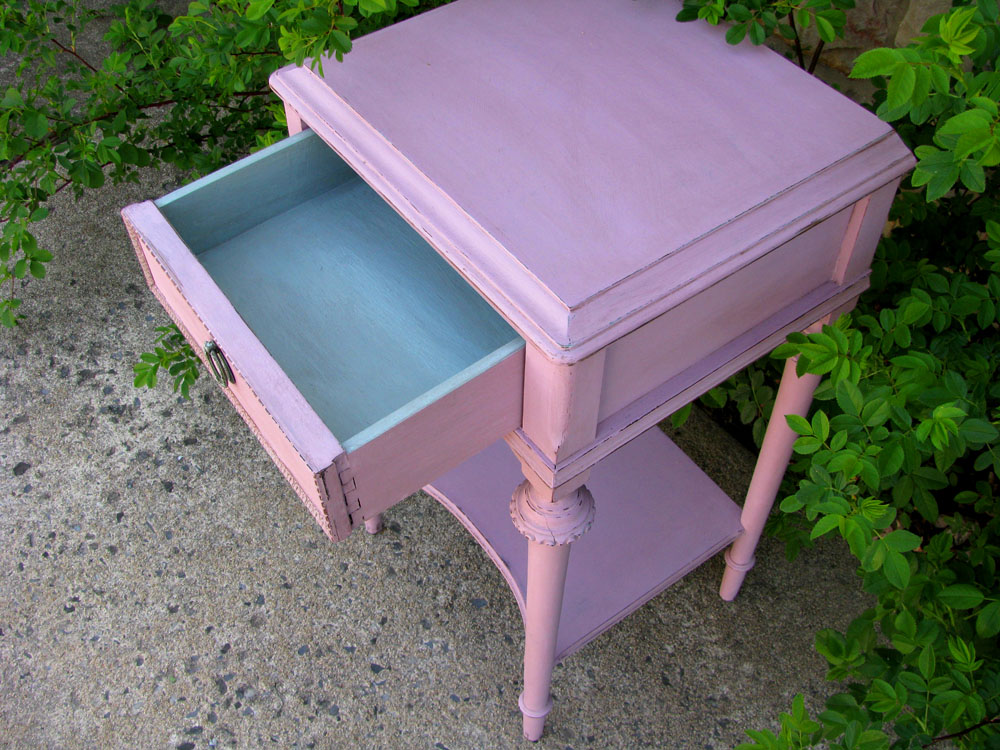 I heard that Annie Sloan's finishing wax can run $30 a pot here in the States (she's based in the UK), so instead, I took my chances with Miss Mustard Seed Furniture Wax, which I purchased for $20 on Etsy.  Not only did Miss Mustard Seed's Furniture Wax give the piece a ravishing finish, its luscious texture and pleasing fragrance made it a joy to work with.
To the opaque wax, I mixed two drops of chocolate brown and two drops of dark gray acrylic pigment.  Vigorously rubbing the wax in and then lightly buffing away the excess gave the piece that delicately dingy, genuinely vintage look I wanted.  A little distressing along the edges also didn't hurt.
This sweet, sturdy, and serviceable piece is now for sale.  If you're interested, shoot me a message.