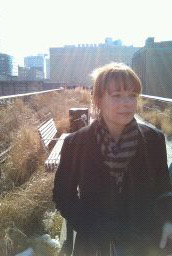 For most of the last decade, Erica L. Vinskie (also, 'Vinskie-Cinelli') has edited and designed print and digital publications for nonprofit and academic entities in Southeastern Pennsylvania. From 2005 to 2011, she served as editor, designer, and most lately, director of publications for Metanexus Institute.
Currently, Erica teaches and tutors graduate students in composition at Penn State University. She holds an M.A. (2011) and a B.A. (2005) in Religion from Temple University where she also taught the upper-level elective, "Religion and Science."
Erica would not be so successful in her professional and academic endeavors if she did not continually nurture her creativity. Like her father and other members of her family, Erica paints. She sells her work, along with the vintage apparel and decorative accessories she has been collecting since she was a teen, in her Etsy shop, HennyFaire.com.
A native of the Pennsylvania Anthracite Region, Erica now resides in Pennsylvania Dutch Country, Berks County, with her husband and two cuddly (when-they-wannabe) cats. She proudly serves on the board of the Keystone Center for Pennsylvania Regional Foods and Food Tourism.
Visit Erica's Etsy shop HennyFaire.com

Read Erica's blog Living by Design.
Peruse samples of her published writing.
Contact Erica at Erica[at]SkieDesign.net.