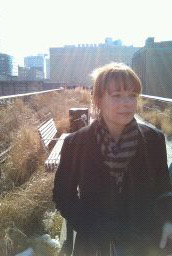 PUBLICATIONS
Articles & Features
"
La Quintana and Olive all'Ascolana: Temple's Italian Food Festival Offers a Taste of a Culture Rooted in History
," bctv.org, August 8, 2011.
"
In Temple, Delish Cupcake's Butter Cream Rises to the Top
," bctv.org, July 26, 2011.
"
Stray Dog Dies on Fifth Street Highway after Animal-Welfare Agencies Don't Show Up
," bctv.org, May 11, 2011.
"Bringing in the May: Maria Sybilla Merian and the Virgin Mary,"
The Global Spiral, May 2009.
"The Pearls of the Prado,"
Metanexus.net, April 2008.
"Reflections on the Sacred Mystery/Secular Miracle of Christmas,"
The Global Spiral, December 2007.
"Metanexus: The Very Idea,"
The Global Spiral, August 2006.
Creative Writing
"
The Patients
," a short story in the literary journal, Hyphen, Spring 2002.
Master's Thesis
"
Becoming Catholic: Story, Sacrament, Conversion and the Emergence of Faith in Postconciliar Autobiographies
," M.A. Thesis, Temple University, May 2011.
Blog
Living by Design
Graphic Art/Design
"
Dreams of da Vinci: Inspirations from da Vinci's Notebooks
," four photo composites featured in the Visual Explorations gallery of Metanexus.net, September 2011.
Book jacket designs for
Metanexus Imprint titles 2010-2011:
Politics by Other Means: Science & Religion in the Twenty-First Century; Advanced Methodologies in the Scientific Study of Religion and Spirituality; H+/-: Transhumanism & Its Critics; Indic Visions in the Age of Science.
Art direction for other titles:
Woman, Man, and God in Modern Islam
(Eerdmans, 2011),
The New Sciences of Religion
(Palgrave MacMillan, 2010), and Full Range Leadership Development (Psychology Press, forthcoming).